Derby death blaze: Fuel 'found on accused man's clothes'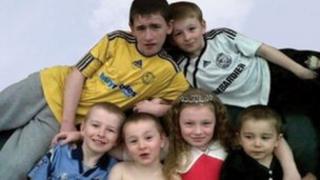 Traces of petrol were found on clothes belonging to a man accused of killing six of his children in a fire, a forensic expert has told a court.
Rebecca Jewell told Nottingham Crown Court traces of Total and BP fuel had been discovered on Mick Philpott's black tracksuit bottoms.
She said traces of fuel additives found in the house came from the same brands present in a strimmer from the garden.
Mr Philpott, 56, denies the manslaughter of his six children.
Mairead Philpott, 31, and a third defendant, their friend Paul Mosley, 46, also deny the manslaughter of the children, who died at their home in Allenton, Derby, last May.
'Fuel in u-bend'
Ms Jewell, who is an expert in petrol analysis, told jurors that low levels of petrol additives had been found on Mick Philpott's underwear, slippers, trainers and his socks.
Paul Mosley's clothing and shoes had traces of Total fuel additives, and so did clothing belonging to Mrs Philpott, Ms Jewell told the court.
She also said evidence of petrol was found in water taken from a sink u-bend at the house in Allenton.
Jade Philpott, 10, John, nine, Jack, eight, Jesse, six, and Jayden, five, died in the blaze at their home on Victory Road.
Their brother Duwayne, 13, died later in hospital.
The trial continues.