Derbyshire council to spend £800,000 on pothole repairs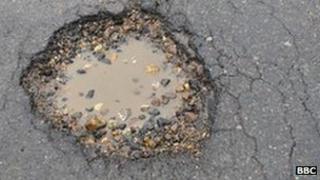 More than £800,000 is to be spent on tackling Derbyshire's pothole problem.
The repairs, due to begin on Monday, have been announced by the Conservative-led county council.
The authority said it had received more than 1,000 calls a week from members of the public and its own inspectors about the state of roads, which have been made worse by cold, wet weather.
But Labour opposition councillors accused the Conservatives of using "panic measures".
The money includes a £300,000 emergency fund to be spent in the next three weeks, drawn from the council's reserves.
Growing backlog
The authority said the backlog of unrepaired potholes was growing even though in recent weeks it had hired 10 extra road repair teams.
The emergency fund will be spent on hiring more contractors to try to clear the backlog, plus the purchase of a £50,000 high-pressure road repair machine, which blasts water and debris out of potholes before filling them with asphalt.
The council will receive a further £500,000 from the government in April to spend on pothole repairs in the next financial year.
However, councillor Anne Western, leader of the Labour group, accused the Conservatives of trying to buy votes before the next local elections in May.
"This is about putting a gloss on things and filling a few potholes before the election comes," she said.
Simon Spencer, deputy leader of the Conservative council, said the timing had nothing to do with the elections.
He added the pothole repair measures were about making sure road surfaces in Derbyshire were as good as they could be, with the resources the authority has at present.