Hundreds apply for Gulliver's Kingdom theme park jobs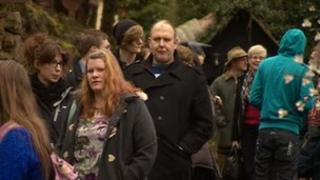 Hundreds of people have queued to apply for jobs at a tourist attraction in the Peak District in Derbyshire.
Gulliver's Kingdom in Matlock Bath needs to fill about 170 posts for the summer season.
The theme park said demand for the roles ranging from café work to ride operators had increased from last year.
Managers said they had 170 pre-applications for the jobs and 400 people visited its recruitment event on Saturday.
The company said it wanted to attract people who had lost employment at local branches of HMV, Blockbusters and Jessops, after they went into administration.