Derby fire deaths: Mick Philpott 'ashamed' of threesome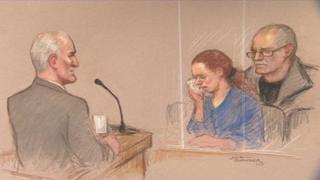 A man accused of starting a fire which killed six of his children has told jurors he is "ashamed" of a threesome he and his wife had hours before.
Michael Philpott and co-accused Paul Mosley both had sex with Mairead Philpott on the evening of the blaze, Nottingham Crown Court heard.
Mr Philpott said: "It's something that shouldn't have happened."
Mr and Mrs Philpott and Mr Mosley all deny the manslaughter of the six children in Victory Road, Derby.
The trial heard Mr Philpott and Mr Mosley played snooker before they had sex with Mrs Philpott.
Anthony Orchard QC, defending Mr Philpott, asked him: "How do you feel about that now?" Mr Philpott said: "Ashamed."
"How do you feel admitting it?" Mr Orchard asked. "The same," Mr Philpott replied.
Asked why he did not mention it to police in interview, he said: "I think we are totally, totally ashamed of what we've done."
'My kids'
Mr and Mrs Philpott left the house at one point to get cannabis for Mr Mosley.
Mr Philpott said his friend left the house at 12:45 BST on 11 May, and he and his wife were sleeping naked in their conservatory when a fire alarm woke them.
He said his first thought after seeing an "orange light" that appeared to be coming from the living room was "my kids".
Mr Philpott rang 999 and put on boxer shorts and tracksuit bottoms, he said.
He made repeated attempts to break a bedroom window after climbing a ladder at the back of the house, he said.
Mr Philpott told the court he eventually smashed the glass with a wrench but could not get in because the hole was no bigger than his head.
Holding a tissue to his face, Mr Philpott said: "I wanted to get to them but I couldn't."
He said he, his wife and Mr Mosley had a further three or four sexual encounters in the aftermath of the fire.
This included sex together in his minibus at Allestree Park in Derby, which he said was to "block the mental image" of the fire.
The trial has also heard that Mrs Philpott performed a sex act on Mr Mosley in the hotel where she and her husband stayed after the blaze.
'Death threats'
Earlier the court heard the Philpott children were bullied after Mr and Mrs Philpott appeared on The Jeremy Kyle Show with Mr Philpott's live-in mistress Lisa Willis.
"They [people] called them brats, scum of the earth," Mr Philpott said.
He told the court he and his children also received death threats following the TV appearance.
Asked if it had been "a good time for the family", Mr Philpott replied: "No."
He told the court he regretted appearing on the television show.
At the time he had wanted a bigger council house for his family, and the prosecution claimed this was part of the reason he started the fatal fire on 11 May.
There had been 11 children living in the house until Lisa Willis left the family home three months before the fire, taking her five children with her.
Mr Philpott told the court he therefore no longer needed a bigger house.
"The house was quite sufficient," he said.
The prosecution also alleges the fire was started to frame Ms Willis amid a custody battle over her children with Mr Philpott.
Mr Philpott told the court he thought the fire had been started by someone else as a way to get at him.
"I thought somebody wanted to kill me," he said.
"Why would someone want to do that?" Mr Orchard asked.
Mr Philpott answered: "Because of the kind of person I am."
Jade Philpott, 10, John, nine, Jack, eight, Jesse, six, and Jayden, five, died on the morning of the fire.
The children's half-brother, 13-year-old Duwayne, died in hospital.
The trial continues.