Derby fire deaths: 'Possible' that Mick Philpott set fire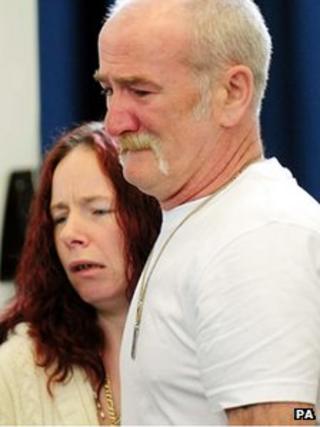 A mother accused of killing her six children in a house fire has said she "can't rule out" the possibility that her husband started the blaze.
Mairead Philpott told a jury her husband Mick could have got up at night and set the fire without her knowledge.
Richard Latham QC, prosecuting, asked if she thought her husband could have set the fire and she replied: "I honestly don't know."
Mr and Mrs Philpott and friend Paul Mosley deny six counts of manslaughter.
Mrs Philpott told Nottingham Crown Court she had been asleep in the conservatory with her husband on the night of the fire.
'It's possible'
Mr Latham asked whether she was suggesting her husband had got out of bed shortly before the fire.
Mrs Philpott replied: "It's possible, I don't know because I was asleep."
The prosecutor asked Mrs Philpott: "Are you saying that there is a possibility that your husband set this fire behind your back, literally?"
Mrs Philpott replied: "I honestly don't know. I can't rule out anybody - I just don't know who set the fire."
Mr Latham went on to question Mrs Philpott about traces of petrol found on her leggings, underwear and a sink at the fire-hit house.
He asked: "What was going on with Total petrol in that sink that night?"
Mrs Philpott, who claims to have found out that the house was on fire only after being woken by a smoke alarm, replied: "I don't know."
At the conclusion of her evidence, Mrs Philpott denied all three defendants had "thought up" the fire as a way to blacken the name of her husband's former mistress.
"I have told the truth," Mrs Philpott said. "I don't know why there is petrol on my clothing."
Mrs Philpott was also asked about covert recordings in which her husband talked of "sticking with the story".
Mr Latham put it to Mrs Philpott that she and her husband had been talking about the allegation they were responsible for the fire.
But she told the jury the phrase was a reference to not telling anyone about sexual activity with Mr Mosley.
"It was about the sex," she told the court.
"I didn't want to be disgraced in the papers. My children had just died - I was more bothered about my children."
'Suicide attempt'
Mr Latham said this explanation did not make sense.
"This is not about the sex, it's about the allegation of killing your children," he said.
Earlier, Mrs Philpott said she took an overdose because she wanted her husband, his mistress Lisa Willis and all of the 11 children to be back together.
Miss Willis and her five children left the home in Derby they shared with Mr and Mrs Philpott and their children three months before the fire on 11 May.
Talking about Miss Willis, Mrs Philpott said: "She has always wanted Mick for herself."
Jade Philpott, 10, John, nine, Jack, eight, Jesse, six, and Jayden, five, died on the morning of the fire.
Mrs Philpott's son from a previous relationship, 13-year-old Duwayne, died later in hospital.
The trial was adjourned until Wednesday.