A6: Derby's London Road Bridge to close for up to a year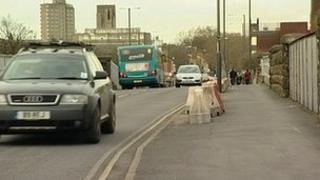 A £7m plan to replace a sub-standard bridge in Derby will mean its closure for almost a year.
The city council said London Road would be closed to A6 traffic between Bateman St and the Rail Technical Centre, from September 2013 until August 2014.
It said a temporary footbridge would keep pedestrian and cyclist access.
The council said a weight restriction had been placed on the bridge which carries the A6 over the Derby to Birmingham railway.
It said an engineering inspection carried out in 2011 found it had "deteriorated significantly", and the maximum weight of vehicles was reduced from 18 to 7.5 tonnes.
A spokesman for the council said through traffic out of the city centre would be diverted along the inner ring road through Pride Park to the Ascot Drive roundabout from September.
Inbound traffic would be diverted along the reverse of this route, it added.
Transport Secretary Patrick McLoughlin said: "The £4.4 million we are putting into this project shows that the government is serious about investing in the infrastructure the country needs to drive economic growth."