Derby carers: City council to defer cuts plans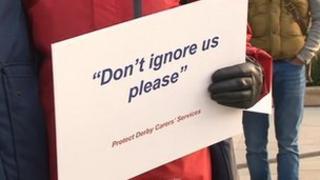 Derby City Council is set to defer plans to cut £500,000 from adult care services in the city.
The authority now intends to postpone any decision so it can further consult with carers and their families.
The city council, which needs to save £63m by 2015, first announced the cuts as part of its budget in January.
Vita Snowden of Protect Derby Carers' Services said: "This is an important success story for carers and it shows what we can do when we work together."
Leader of the council Paul Bayliss said: "We've listened to the concerns of carers and in discussion, and have realised we need more time to fully understand the impact any cuts will have on them.
"We would like to safeguard vital carers' services over the next two years and minimise any negative consequences on carers as a result of council budget cuts."
Almost 500 carers and members of the public told the council they did not want to see cuts to adult care services when asked during the council's January budget-setting process.
Ms Snowden said: "Carers save the council billions of pounds. If carers aren't given the support and advice they need, it will be more expensive in the long run.
"The council's recognition of the needs of those who quietly look after loved ones 24/7, usually in very stressful circumstances, is extremely important."
The council is due to make a final decision in August.