Derby fire deaths: 'Maniac arsonist' theory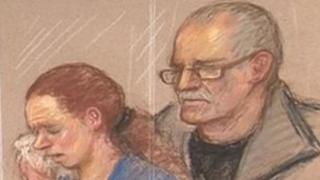 The barrister for a man accused of the manslaughter of six children in a house fire has claimed that a "maniac arsonist" could be responsible.
The claim was made as Paul Mosley's barrister made his closing speech.
Petrol was found on Mr Mosley's clothes but he claims he could have been splashed with fuel when filling his wife's car.
Mick Philpott, Mairead Philpott and Mr Mosley deny the manslaughter of the children in Derby.
Mr Mosley, 46, chose not to give evidence in his defence.
His barrister, Ben Nolan QC, said: "It could have been a maniac arsonist. There are such people about."
The explanation about the petrol splashing on his clothes was given during a police interview and was "perfectly plausible" according to Mr Nolan.
'Fully cooperative citizen'
He said his client told police in the hours after the fire that he had been at the house the evening before but had left at about 01:30 BST.
Days after the fire, Mr Mosley volunteered to give DNA and fingerprints to the police "to assist their investigation".
Mr Nolan said: "He was a fully cooperative citizen in the aftermath of a tragedy."
For a second time, jurors were shown CCTV footage of three people walking near to Victory Road, where the children died.
In covert recordings made by police, Mr Mosley is heard saying he saw three young men as he walked home from the house on the night of the fire.
'Moral condemnation'
Mr Nolan said one of the people in the CCTV, which he suggested were young men, could be seen "running as if he had been up to no good".
The court has heard that Mr Mosley had threesomes with Mr and Mrs Philpott, the parents of the children who died.
One threesome was hours before the fatal fire, but Mr Nolan said this did not make his client guilty of manslaughter.
"This part of the case attracted moral condemnation. Adultery is not a crime," Mr Nolan said.
"This is a court of law, not a court of morals. You are an English jury, not a Sharia court from Saudi Arabia."
Jade Philpott, 10, John, nine, Jack, eight, Jesse, six, and Jayden, five, died on the morning of the fire on 11 May 2012.
Mrs Philpott's son from a previous relationship, 13-year-old Duwayne, died later in hospital.
The trial continues.