Philpott sentencing: Derby fire deaths duo 'good' parents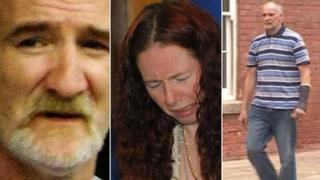 A mother and father convicted of killing six of their children in a house fire were "good" parents, a court has heard.
Mick and Mairead Philpott are due to be sentenced for manslaughter on Thursday, along with their friend Paul Mosley.
Barristers representing the Derby parents told the judge the children had been loved and "happy".
But the court heard 56-year-old Philpott had a criminal record and had tried to murder a previous girlfriend.
He was jailed for seven years in 1978 after repeatedly stabbing her and given a concurrent five-year sentence for stabbing her mother, causing grievous bodily harm with intent.
In 1991 he received a two-year conditional discharge for assault occasioning actual bodily harm after he headbutted a colleague.
And in 2010 he was given a police caution after slapping Mairead and dragging her outside by her hair.
Rape allegation
When Philpott set fire to his house in Victory Road, Derby, he was facing trial over a road rage incident in which he punched a motorist in the face.
He had admitted common assault in relation to the incident but denied dangerous driving.
Police have also confirmed that they intend to "thoroughly" investigate an allegation that Philpott raped a woman several years ago.
She made the allegation after the death of Philpott's children, but police decided to wait until the end of the manslaughter trial before investigating the complaint further.
On Tuesday the jury at Nottingham Crown Court returned unanimous manslaughter verdicts on Philpott and Mosley, 46, while Mairead Philpott, 32, was convicted by a majority.
Not 'deliberately harmed'
Mrs Justice Thirlwall said earlier that she would "consider the sentences" and hand them down on Thursday - it had been expected the three would learn of their sentences on Wednesday.
Anthony Orchard QC, representing Philpott, said: "Despite Mr Philpott's faults he was a very good father and loved those children.
"All the witnesses, even Lisa Willis [Philpott's former mistress], agree on this.
"There's no evidence at any stage that he deliberately harmed any of them."
Mr Orchard said Philpott's conviction for attempting to murder his previous girlfriend by repeatedly stabbing her was a "long time ago" and there was no evidence of anything like that being repeated.
But the judge interrupted and said: "There's been violence in every single relationship, has there not?"
Shaun Smith QC, for Mairead Philpott, said there was no evidence "any of these children were in any sort of danger or peril prior to that night [of the fire] whatsoever".
"The entirety of the evidence is that Mairead Philpott was an extremely good mother to all 11 children [who had been living in the house]," he said.
'Child killer'
Mr Smith added they were "happy children" who were "well nourished" and "well looked after".
He said when released from prison, Mairead Philpott would have no support network from family, and she would not be able to have children or be involved with any despite her great love for them.
"She will be forever known as a child killer," Mr Smith said.
Jade Philpott, 10, John, nine, Jack, eight, Jesse, six, and Jayden, five, died on the morning of the fire on 11 May 2012.
Mairead Philpott's son from a previous relationship, 13-year-old Duwayne, died later in hospital.
The judge was told that Mosley, "a family man with two children", still denies any involvement in the fire.
The trial heard it was started to frame Philpott's former live-in mistress, Lisa Willis, who had left the house taking her five children.
Philpott hoped this would help him get custody of the children, the prosecution said, but the plan went "horribly wrong" as Philpott was unable to rescue them from the blaze.
Jurors were also told that Philpott may have hoped to obtain a bigger council house, but Mrs Justice Thirlwall said welfare dependency had not caused him to kill.