Severn Trent water advice follows dry start to year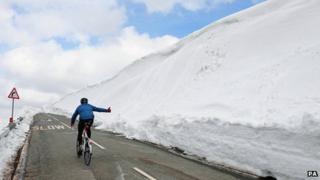 Consumers have been asked to be careful about their water consumption - just months after one of the wettest years on record.
Severn Trent has appealed to residents to be "sensible" with water after three months of below average rainfall.
After 18 months of dry weather, 2012's washout has left the company's reservoirs at 94% capacity.
But it said the latest rainfall statistics were a reminder that droughts could happen at any time.
In April 2012 several water companies - though not Severn Trent - had imposed restrictions on use following months of below average rain.
This was followed by the wettest UK April to June on record, with the entire year being the second wettest ever.
But despite being far colder, the start of 2013 has echoed the dry beginning to 2012.
Met Office figures show the UK saw only 88% of the average rainfall in January, falling to 66% in February and 65% in March.
A spokesman for the Met Office said: "Cold weather tends to mean less rainfall.
"Snow on the ground looks like a lot of moisture but when it melts it is in fact far less - 1cm of snow equates to about 1mm of rain."
Marcus O'Kane, water resources strategy manager for Severn Trent Water, said: "Our plans for the coming year are in place and we are confident that we're in a good position to provide our customers with a continuous supply of water throughout the year.
"But we would still ask our customers to be sensible with the amount of water they use as you never know when the next drought might be."
The company said simple measures such as correctly filling appliances and restricting shower times would help protect reserves.