Philpott children: Derby County holds minute's silence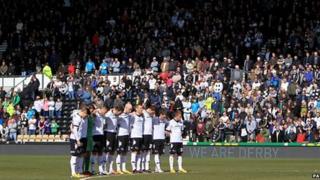 A minute's silence has been held at Derby County's football match in memory of the six Philpott children killed in a fire last May.
On Thursday, parents Mick and Mairead Philpott and friend Paul Mosley were jailed over the children's deaths in the fire at the family home in Derby.
The silence was held before the home game against Ipswich Town at 15.00 BST.
A whistle was blown to mark the beginning and end of the silence before fans burst into applause.
Before the silence The Rams' announcer called everyone at Pride Park to remember Duwayne, Jade, John, Jack, Jesse and Jayden Philpott.
The 23,000 people in the stadium kept perfectly silent between the two whistle blasts before joining in a lengthy applause.
Mick Philpott, 56, was given a life sentence for the manslaughter of the children and told he would serve a minimum of 15 years in prison.
Mairead Philpott, 32 and Mosley, 46, were told they would each serve half of a 17-year sentence.
Jade Philpott, 10, John, nine, Jack, eight, Jesse, six, and Jayden, five, died on the morning of the fire in Victory Road on 11 May.
Mairead Philpott's son from a previous relationship, 13-year-old Duwayne, died later in hospital.