Matlock flooded as water main and gas pipe crack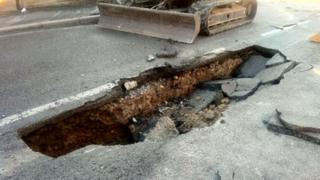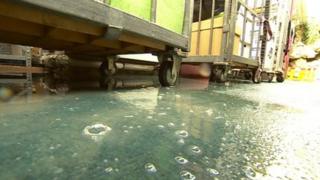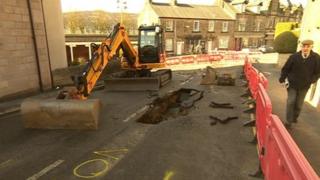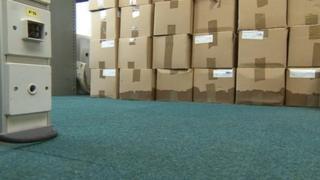 A burst water main flooded Derbyshire County Hall, causing a road to collapse and a gas main to crack.
Homes in Matlock were evacuated after the catalogue of chaos started at about 22:20 BST on Friday with water gushing down Wellington Street.
Water flooded County Hall, causing tens of thousands of pounds of damage, before Smedley Street collapsed. A van then fell into a hole in the road, cracking a gas pipe.
Both roads remain closed.
Police closed the surrounding roads but when Severn Trent workmen arrived to start repairs the road collapsed after being weakened by the flood.
A Severn Trent van fell in the gaping hole, causing a gas pipe to crack and forcing the evacuation of 25 homes.
Alan Richmond, from Derbyshire Fire and Rescue, said: "Because of the position of the van I didn't want to risk a spark by dragging it out of the hole.
"So we ended up having to order a very large crane with a 100 tonne capacity lift to lift it out. It was potentially quite a serious incident."
Derbyshire County Council said the flooding did tens of thousands of pounds of damage and it will be "days if not weeks" before staff can return to work in the building.
Both leaks have since been repaired, and all houses have been reconnected, but the roads remain closed until further notice.
Severn Trent Water has apologised for the flood and said roads should reopen on Monday.