Derbyshire hospice gets £600,000 for new support centre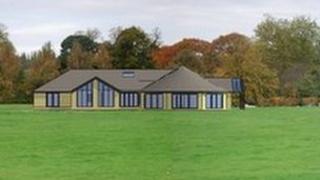 A Derbyshire hospice has received £600,000 to help it develop a support centre in its grounds.
The Treetops Hospice, in Risley, said the new centre would have nine counselling rooms, a seminar room and an information centre.
The grant came from a £60m Department of Health programme.
The money will fund 75% of the £800,000 centre which is planned to open in April 2014.
New support service
Treetops Hospice is a registered charity which supports about 2,000 patients a year from its catchment area, which extends from Ashbourne to Broxtowe.
It provides respite and palliative care for adults with illnesses such as cancer, motor neurone disease and multiple sclerosis. It also offers help and support to their carers and families.
The proposed centre would include a new support and information service which would enable patients to discuss their condition with specialist advisors and access legal and financial advice.
It would also house the charity's bereavement support service, which is currently located above a charity shop in Sandiacre, and the Hospice at Home hub, a service that provides nursing care to people in their homes.
Chief executive George Cameron said: "We were looking for other premises and we heard about this grant. We applied for it in November and were delighted when we found we'd been successful."