Philpotts do not represent Derby says council leader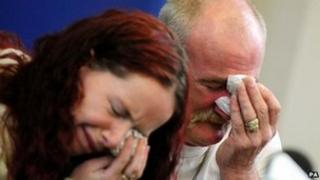 Mick and Mairead Philpott are "in no way representative" of Derby, the council leader has said.
Paul Bayliss also disagreed with chancellor George Osborne's comments the Philpotts' lifestyle was connected to the welfare state.
The Philpotts were convicted of killing their six children by starting a house fire, along with their friend Paul Mosley.
Following the sentence, Mr Osborne said a debate about benefits was needed.
However, Mr Bayliss, a Labour councillor, said: "Derby has been highlighted for all the wrong reasons over recent weeks but this is just one man, his wife and his friend.
Proud of community
"I accept there are individuals who may try to take advantage of the system for their own benefit and, in response to Mr Osborne, I categorically disagree with his assertion that this tragic loss of life is somehow linked to a 'benefits culture.'"
Mr Bayliss said he was proud of the response of the community and the emergency services who tried to rescue the children.
He added he believed the Philpotts' home on Victory Road should be demolished. Derby Homes is due to make a recommendation to the council about the property's future.