Peak District hotel closure puts weddings in doubt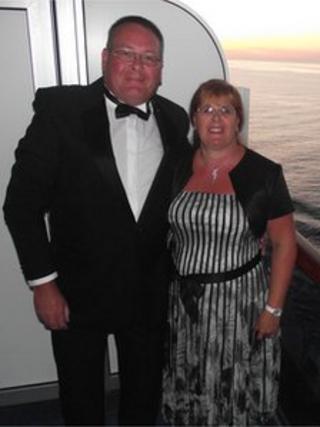 A hotel due to host a couple's wedding on Saturday has closed, leaving them having to find a new venue at short notice and unsure if they will get their £5,000 deposit back.
Geoff Cooksey and Sara Smith booked their wedding at the Izaak Walton Hotel in Derbyshire eight months ago.
But they last heard from the owners on 9 April and the hotel gates are shut.
Several more couples also have weddings booked in the coming months. The hotel owners have not been contactable.
Repeated attempts have been made by the BBC to contact Thomas Day, who owns the hotel in Dovedale in the Peak District, without success.
'Emotional nightmare'
Mr Cooksey, 54, and Ms Smith, 46, from Rodsley, Derbyshire, are still set to get married on Saturday, at Callow Hall in nearby Ashbourne, which offered to host the wedding and a drinks reception at short notice.
Mr Cooksey said it had been an "emotional nightmare".
"[The wedding] was booked eight months ago. We had been in touch with the hotel until 9 April when they stopped returning our calls," he said.
However, Companies House said the hotel was still registered as an active company and was not insolvent.
Kevin Modiri, a solicitor from Derby, said because no insolvency practitioner has been appointed it would be difficult for individuals to recover anything back.
However, he said if a booking was made by credit card it could offer some protection.
Mr Cooksey and Ms Smith said they were waiting to hear from their credit card company to see whether they would get their £5,000 refunded.
James Carrier, who paid his deposit by cheque, said he and his partner had similar problems with the hotel.
"There was a complete communications blackout," he said.
"My fiancee and I went up to the hotel in person and there was no-one to be found. We've had recorded delivery letters returned to us unopened.
"The more digging you do on this the more it becomes an absolute travesty."
Carl Hattersley, another who had booked the venue, said things had "snowballed" from January when a guest could not book a room.
Keith Hargreaves, also from Derbyshire, is due to be married at the hotel in May and said he was angry and uncertain.
"You don't know what's happening and you can't talk to anybody. You just have to cope with it," he said.