Housing on former Derby travellers' camp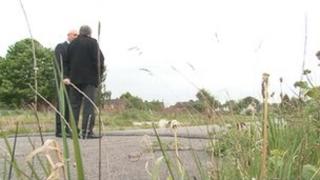 The site of a former illegal travellers' camp in Derby is to be used for 95 new homes.
The project has been led by Osmaston residents, after travellers left the site in 2011.
The housing development will take place on sites at Russell Street and Glossop Street.
They have been undeveloped since Derby City Council demolished 92 homes in the area in 2000. Building is expected to start in July.
Registered charity
The travellers, who lived on the Glossop Street site for nearly seven years, moved to a purpose-built area in Osmaston.
Resident Mick Whitehead said: "We had no problem with the travellers. They kept themselves to themselves.
"What annoyed us was that the council seemed to do a lot of talking and we never actually got anywhere.
"Since the travellers have moved, things have come along very quickly."
The Osmaston Community Association of Residents (OSCAR), which was set up two years ago, campaigned for the area to be transformed.
It worked with the local council and Derby Homes to choose developer, Strata.
The site will consist of 95 houses, 55 of which will be sold by Strata while the remaining 40 will belong to OSCAR, which is now seeking to become a registered housing provider and charity.
The full development will cost £9m and the cost of OSCAR's share of the development has been supported by government and city council funding.
Anthony Slater, from OSCAR, said: "Yes, we're a residents' association but we're not just curtain-twitchers. We aim to link together with other stakeholders. You can't do anything on your own."