Peter Kay brother imposter admits cancer boy fraud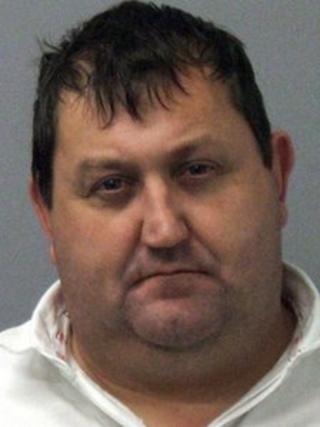 A conman who posed as the brother of comedian Peter Kay while pretending to raise money for a boy with cancer has admitted fraud.
Police searched for Peter Stead for four years, and he was eventually caught around the anniversary of Lewis Mighty's death.
Lewis's mother, Jaime Mighty, believes that "karma has got" the 50-year-old.
He conned pub landlords by taking cash with the promise of putting on fundraising comedy nights.
He said money raised would go to the Lewis Mighty Fund, but he failed to put on the shows.
Mrs Mighty, from Mackworth in Derby, said: "I honestly don't think there was anywhere he didn't do.
"I think it would have been easier to count up the places he didn't target rather than the ones that he did."
Stead is of no fixed address but had previously lived in Lincolnshire.
Police said the offences took place in Derby, Nottinghamshire and Northamptonshire.
Derbyshire Police launched an investigation in 2009 after several Derby landlords reported that a man had tricked them out of money by pretending to be Danny Kay.
'Disgusting and despicable'
At the time, the parents of Lewis Mighty were trying to raise £300,000 for him to undergo immunotherapy treatment in the US. Lewis died surrounded by his family at the Queen's Medical Centre in May 2012.
Lewis's mother said: "[Stead] tapped into that and completely milked it, just to line his own pockets. I think he's disgusting and despicable."
Barbara Cathcart, chief executive of Nottingham Hospitals Charity which runs the Lewis Mighty Fund, described Stead's actions as "beyond disrespectful" to Lewis's memory and the work of his family and supporters.
She said: "It is truly deplorable that he would use the name of a brave young cancer victim for his own gain."
She said people with concerns about someone claiming to raise funds for the Lewis Mighty Fund should contact her charity to ensure they are genuine.
Stead pleaded guilty to five counts of fraud and will be sentenced on 21 June.