Derby city centre gets £1m refurbishment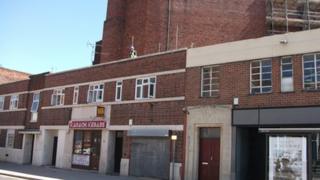 A "neglected" part of Derby city centre is to get new paving and lighting worth £1m as part of a council scheme.
Work will start in September on refurbishing the St Peter's Cross area, including St Peter's Street, St Peter's Churchyard and East Street.
City council leader Paul Bayliss said the improvements would help attract more visitors.
However, some residents claimed other areas of the city had been "totally forgotten".
'New life'
Janet Field, who used to run a jewellers on Green Lane, near St Peter's Street, said: "The centre of Derby used to be where the market place is.
"It never used to be where Westfield is.
"It's moving further and further to the wrong side of town and it means the areas that used to be busy and bustling are being neglected."
The funding for the work has come from a number of sources, including the council and the government.
Mr Bayliss said future plans include proposed improvements to Becket Well and "the eyesore that is Duckworth Square".
He added: "These things have to be done in sequence. We can't do them all at once.
"We think the investment we are making in the city will give us a centre we can be really proud of.
"We are confident the improvements to St Peter's Cross and The Spot will bring new life to this part of the city centre to make it more attractive to residents, visitors and investors."
Colin Bradley is deputy chief executive for the Loughborough Building Society which falls within the area to be redeveloped.
He said: "I think this is great for Derby.
"The area links the Westfield Shopping Centre with the cathedral quarter.
"There are a number of empty retail units at the moment. The funding is excellent news for the city and will enable the St Peter's area to develop."