Derby Cathedral peregrine falcon takes first flight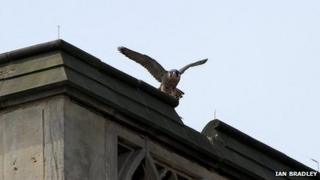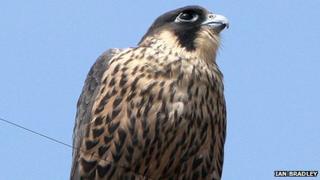 The first of four baby peregrine falcons born on Derby Cathedral tower has fledged.
The tough winter had caused concerns for the birds and a hot water bottle was used to melt snow off the nest.
The first to fledge took flight on Tuesday morning, spotted by viewers of Derbyshire Wildlife Trust's live webcams.
It is hoped the other three will follow suit shortly before they spend about a month learning to hunt.
Nick Brown, the trust's inquiries officer, said: "We've been awaiting it for a while now because the youngsters have lost all that white fluff - they had developed proper feathers and had been flapping away on the edge of the platform."
The trust was alerted to a missing youngster by viewers of the webcams before Mr Brown rushed to the cathedral to check it had not fallen off.
The event drew a crowd to the city centre as the falcons' popularity has grown.
"They've got quite embedded into the psyche of Derby people," Mr Brown said.
"We've had people come from Stoke and Doncaster so we are a bit of a tourist attraction."
Mr Brown said the parents will spend the next month dropping food for their offspring to catch as it falls to the ground.
The falcons have nested at the cathedral since 2006 but it was a nervy winter with the trust lowering a water bottle to melt snow off the nest.