Derbyshire commissioner Alan Charles holds alcohol summit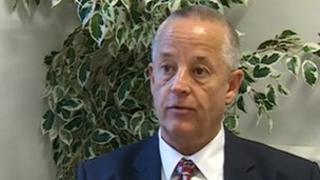 Tackling alcohol related crime in Derbyshire is to be the focus of a multi-agency meeting later.
Official figures show alcohol is believed to have played a part in at least 5,255 offences in 2012/13, just over 10% of all recorded crime.
Organised by police commissioner Alan Charles, the summit will include local authority, health, criminal justice and community safety groups.
Mr Charles said he wanted to see "firm tasks" indentified by the event.
National statistics show 47% of victims of violent incidents thought their attacker had been drinking.
Pioneering schemes
It is thought to be a major factor in public order offences, criminal damage, assaults, violent offences and traffic offences.
Mr Charles said: "We all recognise that there is a problem, alcohol-related crime accounts for a significant amount of all crime committed, and alcohol is a common denominator in violent crime and issues such as domestic abuse.
"By working together we can develop shared solutions and innovation to the challenges posed by excessive alcohol consumption.
"We will also seek to identify workable solutions to some of the problems associated with the night-time economy."
Mr Charles said he wanted Derbyshire to learn from cities like Ipswich and Cardiff which had introduced schemes such as bans on the sale of super-strength lagers and showing patients in an alcohol treatment centre footage of their behaviour.