Derby fire deaths: Mairead Philpott and Paul Mosley appeals rejected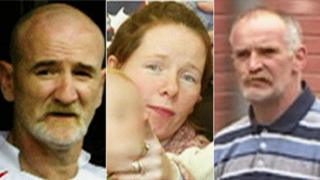 Two people jailed for the manslaughter of six children in a Derby house fire have had applications to appeal against their sentences rejected.
A judge at the Court of Appeal refused permission for Mairead Philpott and Paul Mosley's applications to proceed.
The pair wanted to reduce the 17-year prison sentences they were each given in April.
Mick Philpott, Mairead's husband, has not tried to appeal against the life sentence he received for manslaughter.
The 56-year-old, who was the children's father, can no longer do so as defendants need to appeal within 28 days of being sentenced.
Mairead Philpott, the children's mother, and Mosley, a family friend, now have the right to renew their applications and ask a full court of three judges to give permission.
The pair were not at the court hearing when Mr Justice Henriques made his decision on 15 July, but both have been sent letters explaining why their applications have been rejected.
These reasons have not been made public.
'Not as substantial'
The trial heard that Philpott started the fire to frame his former live-in lover Lisa Willis and gain custody of her five children, but he did not appreciate how quickly it would spread.
The trial judge, Mrs Justice Thirlwall, said Mick Philpott was responsible for pouring petrol on the floor and setting it alight, while Mairead spoke to the emergency services.
Shaun Smith QC, Mairead's barrister, told BBC Radio Nottingham in May that she would appeal because her role had been overstated.
Mr Smith said: "She was instrumental in killing six children but we feel as though her role in the deaths was not as substantial as the trial judge has assessed."
In her sentencing remarks, Mrs Justice Thirlwall said it was clear that the fire on 11 May 2012 was Mick Philpott's plan, and accepted that he treated his wife "as a skivvy or a slave."
However, she added: "You put Michael Philpott above your children and as a result they have died."
Mosley's role in starting the fire was not clear, but Mrs Justice Thirlwall said she was "quite sure" that one of his tasks was to remove petrol containers from the scene.
She said Mosley had been prepared to go along with the plan "to please" his friend Mick Philpott.