Matlock Bath pavilion charity bids for £3m lottery cash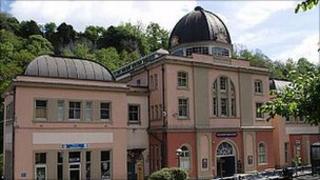 A charity of volunteers in Derbyshire is bidding for £3m Heritage Lottery funding to turn an Edwardian pavilion back into a theatre.
The Grand Pavilion, in Matlock Bath, was a music and entertainment venue and then a nightclub, but closed in 2008.
Derbyshire Dales District Council, which owned the building, transferred the freehold to The Grand Pavilion Ltd, a group of local volunteers.
They hope the £3m Heritage Enterprise funding will restore the venue.
'Sentimental attachment'
The volunteers are travelling to Nottingham later, in an open-top bus from 1910 - the year the pavilion was built - to hand in their bid at the Heritage Lottery Fund's (HLF) headquarters on Friar Lane.
The group, which hired the vintage bus for the occasion, will travel together with their patron, former BBC Blue Peter host Simon Groom.
The repairs, which will include the reinstatement of the venue's 400-seat theatre and the construction of disabled access - will cost £3.7m.
Should the lottery bid be successful, the refurbishment would allow the group to operate the theatre as a year-round venue.
Currently, the lack of a workable heating system restricts the pavilion's use to summer.
It would open in 2017.
"There is a lot of sentimental attachment to the pavilion in the area," said Charles Beresford, vice chair of the group.
"Stars such as Elton John - when he was known as Reg Dwight - and Rod Stewart, in his early career with the band Shotgun Express, appeared there.
"There is a real lack of theatre provision between Buxton and Derby, other than village halls.
"There are other funders available if the Heritage Lottery Fund agree to chip in. If the bid is rejected, we will need to think again."
A spokesperson for HLF said they were unable to comment on bids until they had been processed.