Council proposes spending £3m on Ripley marketplace revamp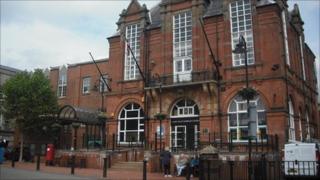 A town marketplace in Derbyshire could get a facelift after councillors agreed to spend £3m on its redevelopment.
The marketplace in Ripley is currently used as a car park, but Amber Valley councillors want to transform it with new paving, lighting and shop fronts.
The money will need to be raised from future council revenue, a council spokesman said.
But Ripley businessman David Clarke said the money would be better spent elsewhere.
"I am a little bit surprised by the idea and it does sound a lot of money to spend on a marketplace that doesn't look too bad," he said.
"We should look at other alternatives for the money within the town centre which might be more beneficial."
Amber Valley Borough Council deputy leader Liz Bowley said it would encourage "more frequent and longer visits to the town".
Ms Bowley said the improvements would be made "when capital receipts allow" and would "improve the vibrancy and vitality" of the area.
The funds could also be used to hire a town centre manager and to promote more events in the town.