Agency's licence revoked over illegal farm workers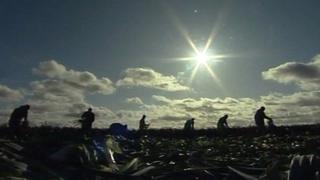 A firm that supplied illegal workers to pick crops has had its licence revoked following an appeal.
Derby-based United Recruitment Services supplied labour to farms in Lincolnshire.
An inspection by the Gangmasters Licensing Authority (GLA) uncovered 11 breaches of licensing standards.
They included using workers with fake passports and providing no proof of paying the National Minimum Wage, or holiday pay.
A breach of one critical licensing standard is sufficient for the GLA to revoke a licence. United Recruitment Services failed seven critical and four non-critical standards.
The firm's licence was first revoked in February but an appeal by managing director Chander Shekhar Guru allowed the business to continue trading until the case was heard.
Employment judge Peter Britton has now upheld the GLA's findings.
'Wholesale illegal immigrants'
The licensing authority first visited the business at the end of October 2011 and found serious irregularities.
Judge Britton said: "Of the 79 workers on the books at the time, only 15 were legally allowed to be working. A great many of them were illegal immigrants."
He added that there were numerous entries in the files of employees, all from the Punjab region of India, who had been found to be working on "forged passports".
"To quote Oscar Wilde - one might be unfortunate, two might be very unfortunate but the sheer number in this case cannot be coincidental," he said.
"What it shows is that United Recruitment Services was in the business of employing illegal immigrants wholesale."
The hearing, which concluded in Nottingham on Friday, was told GLA inspectors had discovered numerous serious failings in the operation of the business that Mr Guru ran from his home address, in Glencroft Drive, Stenson Fields.
As well as employing illegal workers, the company was found to be using two sets of timesheets and payslips, casting doubt on what tax payments were being made.
Mr Guru was unable to provide any satisfactory explanation to clarify issues identified by the GLA.
The judge dismissed his evidence as "evasive".
The ban will begin on 13 December, from which time Mr Guru will not be allowed to provide workers for agriculture, horticulture, food processing, packaging or shellfish gathering.