Riley Pettipierre methadone death preventable, report finds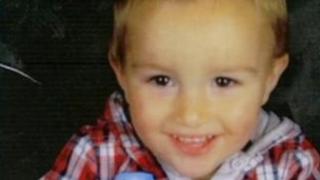 The death of a two-year-old boy who drank some of his mother's methadone could have been prevented, a report has found.
Riley Pettipierre, from Belper, Derbyshire, swallowed the heroin substitute from a beaker last March.
His mother Sally Dent, 33, and father, Shaun Binfield, 45, were convicted of manslaughter and jailed in February.
The Derbyshire Safeguarding Children Board said police and health workers should have done more.
Riley died in March 2012 when his mother Dent, a long-term drug user, put the legally prescribed substitute into one of his beakers.
During the trial, it emerged Riley had been exposed to several drugs and traces of cannabis, crack cocaine, heroin and alcohol were found in his system.
The report, following a serious case review, found there had been a series of "missed opportunities" by several organisations and professionals who came into contact with the family.
Experts said police officers who visited the house following a tip off about low-level drug dealing failed to inform social services about any concerns.
Doctors who treated Dent for her drug addiction also failed to inform social services.
'Missed opportunities'
The report outlined 18 strong recommendations on how information should be shared and risks assessed in such cases.
Det Supt Andy Stokes, head of public protection at Derbyshire Police, said: "Mistakes do happen and unfortunately there has been a tragic death in this case but we are learning all the time and improving."
Christine Cassell, chair of the Derbyshire Safeguarding Children Board, said too much emphasis had been placed on the mother's drug treatment and not on Riley's needs.
She added: "Because people were focused on the mother and her fears of her baby being taken away, they didn't think about the risks to the child as a result of her being a drug user."
NHS Southern Derbyshire said it accepted the history of both parents should have been taken into consideration and a referral to social services should have been made.
Dent was sentenced to seven-and-a-half years and Binfield received four years .