Little Eaton woman's anger over street light removal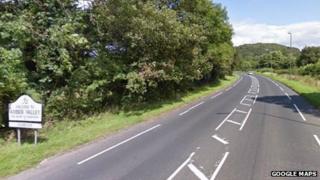 People in a Derbyshire village have been left angry by the removal of street lights on a rural road without consultation, one resident claims.
Pam Heatherington, from Little Eaton, said the B6179 to Coxbench was now an "accident waiting to happen" after the lights were removed last week.
"[It's] a shock that such a decision was made," Ms Heatherington said.
The county council admitted it could have communicated better with residents but said the work was necessary.
'Secrecy' claim
Neil Hickman, the council's assistant director of highways, said: "It was possibly something that we could have done slightly better.
"This particular road is one that's been significantly downgraded. The lighting that's on there is really appropriate to a trunk road and not a relatively minor rural road.
"We have to strike a balance between spending huge amounts of money on consultation and actually doing something useful on the ground, which is of benefit to the public."
Mr Hickman said lighting would be left on at hazardous areas, such as junctions.
"It's the secrecy of it and there was no opportunity to come up with an alternative," Ms Heatherington said.
"I think when the fog hits and people avoid the A38 and use that road they're going to lose orientation because of the bends."
The Labour-led council is aiming to save £157m over the next five years.