Derby College campus in Ilkeston to 'kick start' town centre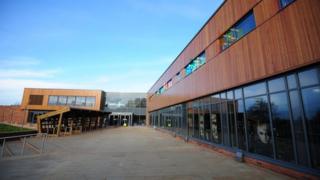 A new £10m college campus could help rejuvenate a Derbyshire town centre, a college leader says.
The 800-student Ilkeston campus of Derby College opened on Monday, offering vocational programmes ranging from brickwork to business studies.
The college said it hoped the campus would "kick start the regeneration of the rest of the town centre".
The campus has moved from its Field Road site on the edge of town, which was described as "not fit for purpose".
The old site was sold to developers and will be used for a shopping centre and 39 new homes.
Spending power
Erewash Borough Councillor Geoffrey Smith said: "The new campus brings hundreds of students and staff into the heart of Ilkeston town centre and their spending power will undoubtedly invigorate and provide important support to local businesses.
"This is a key moment in the ongoing drive to regenerate both Ilkeston and Long Eaton town centres."
Derby College also has sites in Derby city centre and at Broomfield Hall and Pride Park.
The college will hold an open day for the general public in late January after staff and students have settled into the new site, a college spokesman said.
The Ilkeston campus became part of Derby College when it merged with South East Derby College in February 2010.