Derbyshire County Council outlines plans to save £157m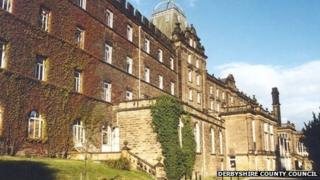 Derbyshire County Council has outlined how it intends to reduce its budget by £157m over the next four years.
The Labour-led authority said proposals included changes to adult social care and children's services.
Families with disabled children could also be asked to pay for transport to make an annual saving of £190,000.
In addition, the council intends to save £700,000 a year by taking all 10 of the county's mobile libraries off the road.
The council is also proposing ending a £220,000 annual contract with the charity HomeStart which supports about 200 families in Amber Valley, Erewash, High Peak and South Derbyshire.
The authority is also looking to reduce its housing-related support budget by £9m.
This would affect a range of groups, including people with learning disabilities and those at risk of domestic abuse.
Living wage
Leader Anne Western said: "We're facing massive financial pressures like never before and that means we've got some difficult decisions to make.
"We don't want to cut any services, but we have no choice. Some services will remain, some will be run differently but some will have to stop."
However, the authority has announced it will introduce the living wage, which will see 3,000 staff being paid £7.65 an hour from April.
Mrs Western said: "Even though we have to make massive savings over the coming years it is only right that we pay our lowest paid employees enough to provide a decent standard of living for their families."
The budget cuts were first announced in October and a consultation launched asking people for their views on what the council's priorities should be.
Top responses included delivering jobs and growth and support for people to live in their own homes.
But bottom of the list were the arts, subsidised transport for school children and historic buildings.
Further consultations will take place if proposals are approved at a council meeting on 21 January.