North Wingfield house fire: Donations reach £8,500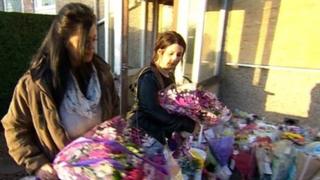 About £8,500 has been raised for the families of four people who died in a house fire in north Derbyshire.
Claire James, 27, Josie Leighton, 32, and her two young sons Tyler, nine, and Jordan, 12, died at the house in North Wingfield in November.
The money has paid for all the funerals and a trust fund has been set up with the remainder for Ms James' seven-year-old daughter who escaped the fire.
Tia James was found in the garden suffering from smoke inhalation.
Vicky Lowe, one of the fund's organisers, said she did not know the family but was desperate to help the girl who is now being cared for by relatives.
She said: "[Tia] was left with virtually nothing so you just have the need to want to help.
"All the funeral costs have been taken care of so Tia has been left with a decent amount of money for when she finishes school, a deposit for a house, anything."
The fire on 20 November was caused by faulty electrical wiring.
Post-mortem examinations determined that all four victims died from smoke inhalation.
Fundraisers later walked 4.5 miles (7km) from Chesterfield to the house, where they laid tributes and held a minute's silence.