Derby's £28m velodrome: Detailed plans revealed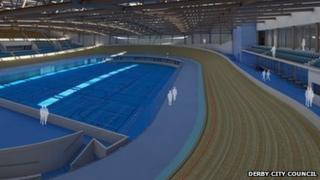 Detailed plans of what the public can expect of Derby's velodrome and sports arena have been revealed.
A report on the £28m project, funded by Sport England and Derby City Council, has been released, outlining what can be expected from the centre.
Work is expected to finish in November with an opening to the public in January 2015.
As well as the cycle track, there will be a gym with 125 stations, multi-sports area, class space, and a cafe.
It was revealed cyclists will need to complete a training session, either in Derby or at one of the other five velodromes in the UK, before they can use the 250m track.
As well as the circuit there will be a sports-hall with space for badminton, basketball, netball and volleyball as well as the gym, group exercise space and meeting rooms.
In the document prepared for a city council meeting on Monday the high-tech gadgets used to run Derby Arena were also revealed.
These will include electronic screens around the centre, rather than notice-boards, and staff with tablet computers rather than a manned reception area.