Derby blue plaque for inventor Jedediah Strutt unveiled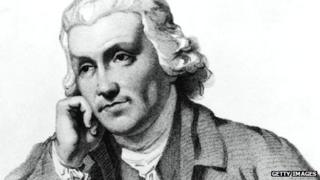 A blue plaque commemorating the man credited with helping start the Industrial Revolution has been unveiled in Derby.
Derbyshire-born Jedediah Strutt helped to create the world's first factories - cotton mills - along the River Derwent in the 18th Century.
The Derby Civic Society, behind the city's blue plaque scheme, called Strutt a "giant" of the industrial age.
The plaque was unveiled at his final home, Friar Gate House.
Alan Grimadell, of the Derby Civic Society, said: "Jedidiah Strutt was a giant of the Industrial Revolution.
"He was an entrepreneur and businessman but also had that common touch - he looked after his workers."
Derby city councillor Asaf Afzal unveiled the plaque at Friar Gate House with the 18th Century building's current owner William Hardcastle, who is moving his company into the formerly disused building.
Mr Afzal said the blue plaque scheme was a "permanent reminder of the people who have a special or a unique place in the history of Derby".
Mr Hardcastle said the building would not only be their home, but the base for their East Midlands interior design business Nash.
More plaques celebrating notable people will be put up in the city this year.