RBS mis-selling claim: Direct Help and Advice wins payout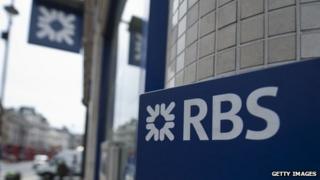 A debt charity, which feared it might have to shut down after a bank mis-sold it a complicated insurance product, has won a £180,000 payout.
Direct Help and Advice said it had axed a third of its staff while Royal Bank of Scotland "kicked its heels" over the claim it lodged in August.
The Derby-based charity said it was now pursuing a compensation claim against the bank.
RBS said it made "no financial benefit" out of delaying the payout.
'The little guy'
The payout has secured the long-term future of the charity, chairman of trustees Rafe Nauen said.
"It is nice to see that the little guy does sometimes win out in the end," he said.
"DHA is now in a much stronger position to move on and support the people that need our services."
The charity, which helps 5,000 people a year with advice on housing and homelessness, was sold its mortgage arrangements by NatWest, which is owned by RBS Group, five years ago.
DHA argued the bank persuaded it to support its existing mortgage with an interest rate hedge product that left it having to pay £3,000 a month in loan servicing and debt exposure fees.
Since 2009, the product has cost the charity £150,000, which it said led to it letting 20 of its 60 staff go.
It lodged a mis-selling claim in August and was left waiting five months for a decision, putting its future "in limbo".
Mr Nauen said the charity was now pursuing a compensation claim "for other costs and losses the charity has incurred as a result of the mis-selling".
RBS said this week it plans to put £3.1bn aside to settle claims relating to mortgage products, PPI claims and interest rate hedging.
An RBS spokesman said the bank "understands the frustrations" of customers who have had to wait months for a response.
"There would have been no financial benefit to the bank of delaying and we are pleased that this vital charity can continue to help the local community," he added.