Al-Madinah free school: Number of children 'not known'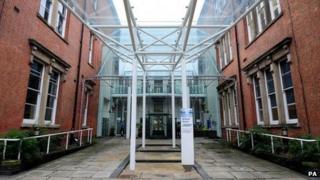 Education chiefs said they had to carry out "a head count" at Al-Madinah free school in Derby because nobody knew how many pupils they had.
The Department for Education (DfE) wrote to the trust chairman on Friday to confirm secondary education will stop in the summer.
The new chairman said it was not clear how many children were on the books.
A Parents and Friends Association at Al-Madinah now hopes to find a way to reopen the school.
The DfE asked Barry Day, chief executive of the Greenwood Dale Foundation Trust, to take over the troubled free school at the end of January.
'Stress was abominable'
Mr Day said: "[The previous trustees] weren't sure how many pupils were on the role. I have actually had to do head counts to find out how many pupils are in the school."
He stepped in as chairman of the board of Al-Madinah but it was too late and on Friday the government announced it was ending secondary education at the school.
The primary school will remain open.
It is now understood there are 140 pupils at the school, some from Burton, in Staffordshire, and Nottingham but the majority from Derby.
Derby City Council now has to find places for pupils who live in the city but the school has not been able to provide an accurate record.
The city council is now discussing where and how it will move the youngsters and held a meeting with parents late on Monday.
Rifat Shaheen, from the friends association, said she hoped there was a way to save the school.
"As a parent I will fight until I have assurance from the DfE, from Lord Nash, to say that once our primary children reach secondary age they will reopen the secondary school," she said.
"The stress and everything else that we as parents - and our children - have been through these last few months has been abominable."
Al-Madinah: The story so far
September 2012: Al-Madinah school opens
August 2013: The Education Funding Agency confirms it is investigating alleged financial irregularities at the school
September: The school faces allegations it is imposing strict Islamic practices
1 October: Ofsted visits Al-Madinah after the DfE asks for an inspection to be brought forward and findings are so bad the school is closed over "health and safety concerns"
7 October: The school reopens
8 October: Education Minister Lord Nash lays out 17 concerns about the school, including segregation of the sexes, and says it will close unless "unacceptable" teaching standards improve
14 October: The school amends its policy to make clear women do not have to wear head scarves
17 October: The school is described by Ofsted inspectors as "dysfunctional"
25 October: Muslim community leaders in Derby call for the school governors to resign
22 November: Lord Nash announces a new education trust will be brought in
12 December: Ofsted reports "no signs of improvement" following a monitoring inspection
31 January: Barry Day of the Greenwood Dale Foundation Trust (GDFT) takes over as the school's chairman
7 February 2014: Lord Nash announces secondary education will stop at the school