Bakewell market noise barrier plan set to be scrapped after six years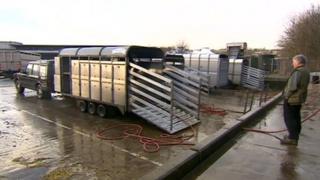 A plan to build a noise barrier at a Derbyshire livestock market looks set to be scrapped six years after it was first proposed.
Despite noise assessments showing the 5.5m (18ft) high barrier was needed, residents objected as they feared their Peak District views would be spoiled.
Derbyshire Dales council is now looking at reducing noise inside the Bakewell Agricultural Business Centre.
The council's environment committee is due to vote on the new plan next week.
Derbyshire Dales, which owns the market, was given permission on appeal to build the 97m (318ft) long barrier, estimated to have cost between £125,000 and £140,000, in 2012.
It said it had received complaints by the market's neighbours since 2006 and, since then, two independent reports had concluded a noise barrier was the best solution.
But a council report released this week has said that noise from the market has reduced in recent years.
Corporate director Peter Foley said the new plan was a "compromise" between the council's legal duty to prevent noise nuisances and residents' concerns about the visual impact of the barrier.
A petition signed by 38 people said the barrier "would have a devastating impact on local residents, would be highly detrimental to the historic town of Bakewell given its reliance upon tourism and would be a massive eyesore within an area of outstanding natural beauty".