Three men arrested after shots fired at Normanton houses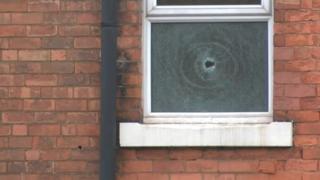 Three men have been arrested after shots were fired at houses in Derby.
Police were called to reports of "loud bangs" in Walbrook Road and Brunswick Street, Normanton, on Wednesday.
Two men, aged 21 and 25, have been arrested on suspicion of firearm offences and a 34-year-old man has been arrested on suspicion of perverting the course of justice.
Police are investigating links to a fight and damage to cars at the weekend.
Two houses were hit by the bullets but no-one was hurt, Derbyshire Police said.