Derby flats explosion 'caused by water storage tank'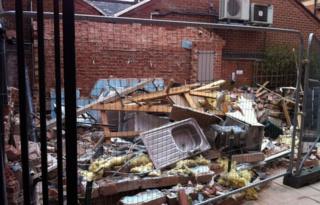 An explosion at a Derby block of flats was caused by pressure building up in a water storage tank, the fire service has said.
The blast in a laundry room at Kenneth House on Tuesday resulted in one person being taken to hospital suffering from the effects of smoke inhalation.
At first, it was thought that a gas leak had caused the explosion but that has now been ruled out.
Riverside, which owns the flats, said it made all necessary safety checks.
'Pressure cooker'
Terry Lambert from Derbyshire Fire and Rescue said: "It was caused by a water storage pressure vessel - the same as you get in a domestic property."
He said it became "like a pressure cooker" and exploded.
Witnesses reported a strong smell of gas at the scene and the National Grid were called out to isolate the supply.
A specialist search and rescue team from Leicestershire joined in the search for possible casualties, but managers at the complex established no-one was left inside after looking at CCTV.
Residents and staff at a neighbouring doctors' surgery and a pharmacy were evacuated to a University of Derby building after the explosion at about 10:30 GMT. Roads in the city centre were closed.
Riverside says it held regular inspections at Kenneth House.
An investigation into the cause continues.