Cowdale Quarry water bottling plant will be 'eyesore'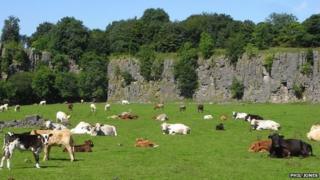 Developers are attempting to get permission to build a water bottling factory near Buxton for a fifth time.
Express Park Buxton Limited wants to build the plant at Cowdale Quarry, and also intends to dig out the quarry and crush the stone to make concrete.
People living in nearby Cowdale say it will be an "eyesore" and are concerned about noise, traffic, and the effect on tourism in the Peak District.
Express Park Buxton Limited declined to comment.
Phil Jones, who lives nearby, said: "What they want to do is to crush and grade the stone within the quarry and make concrete, so the noise to the inhabitants and the walkers on the Midshires Way will be absolutely unbelievable."
A large tunnel, wide enough for two lorries to pass each other, would also be built from the quarry to the A6.
A planning document submitted to High Peak Borough Council estimated 100 people would be employed at the water bottling factory.
Mr Jones said this estimate was "way over the top" because other major water bottlers employ less staff.
"The countryside now provides jobs from farming and from the tourist industry," he said.
"People come to this area to look at the landscape, not at a bottled water factory."
The original planning application, submitted in December 2009, was declared invalid by the council.
Two further planning applications were rejected by the council, then by the Planning Inspectorate in November 2012 when it went to public inquiry.
Mr Jones said people in the area were prepared to fight the plans again, and encouraged people to comment on the application online.
Chris Wooding, of Cowdale, said: "We are all getting to the point where we just feel like it's a David and Goliath fight."
He said one of the main issues was the construction traffic that would come through Cowdale on a "very quiet" and "very narrow" road.
He added: "The developer has got lots of money and professionals that can do all these fancy plans and everything, and we are just a local community."