American Adventure site plans rejected as 'too vague'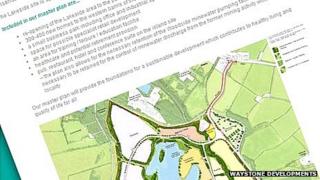 Plans to build hundreds of homes on the site of a former Derbyshire theme park have been turned down.
Waystone Development said the 122-acre site near Shipley, where American Adventure was based until 2007, would also include a small business park.
Amber Valley Borough Council said the scheme lacked the detail needed for a unique site within the green belt.
The firm and county council, which owns the land, said they were disappointed and would consider their options.
Plans for the area, which is centred around a lake, say between 300 and 400 houses would be built and also include retail and leisure facilities.
Next move
Alan Cox, chair of Amber Valley's planning committee, explained the current scheme was "too vague".
"For instance, we don't know whether they were going to build bungalows, two-bedroom houses, blocks of flats even.
"There was nothing in the outline planning application to say exactly what they were doing.
"We don't want to leave this detail to later when it will be harder to sort out problems, we want it done it one swoop," he said.
Derbyshire County Council said they would work with the developers and borough council on making progress.
A spokesman for Waystone Development said: "Obviously we're disappointed.
"These developments are much better progressed on the basis of an outline planning application, followed by reserved matters. We're considering our position."