Burst bowel mistaken for stomach bug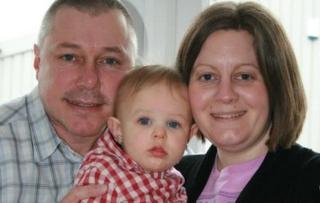 A man whose bowel burst says he almost died because doctors and NHS staff repeatedly mistook his symptoms for a stomach bug.
Stuart Pashley was advised to take painkillers, and told not to go to A&E, despite being in "excruciating pain".
The 47-year-old, from Clay Cross, Derbyshire, eventually had an operation to remove part of his bowel six days later.
NHS England said it was looking into Mr Pashley's complaint.
Mr Pashley said he was told by one GP not to go to hospital because "sickness bugs can close hospital wards and kill people".
"I knew it wasn't a stomach bug," he said.
"The surgeon said, when I came round, that I was lucky to be alive; two more days and I would have been dead."
Mr Pashley initially phoned the NHS 111 helpline on 7 March, after waking with abdominal pain, sickness and diarrhoea.
Three days later, he was visited by a doctor from Clay Cross Medical Centre.
When his wife phoned 999 she was told an ambulance could not come as his condition was not life-threatening.
On 12 March a different GP said Mr Pashley needed admitting to hospital and called an ambulance.
Mr Pashley, a father-of-six, had surgery the following day to have a a colostomy bag fitted and was put in a medically-induced coma for two days to recover.
"It could have left my wife without a husband and my children without a father," he said.
Mr Pashley has complained to Clay Cross Medical Centre, which said it could not comment because of patient confidentiality.
NHS England said in a statement: "We will be asking the practice to provide us with a copy of their formal response and, if appropriate, any performance concerns will be addressed in line with policy and procedures."