Motorist dies after High Tor cliff plunge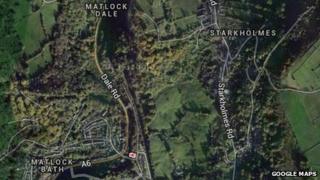 The body of a 65-year-old man has been discovered in a wooded area after a member of the public found tyre tracks that disappeared over a cliff.
The tracks were spotted at High Tor near Matlock Bath in Derbyshire on Monday morning, a Derbyshire Police spokesman said.
A black Chrysler PT Cruiser was found in a wooded area at the base of the cliff along with the body of the man.
It took rescuers about 45 minutes to recover the body.
Derby Mountain Rescue said a stretcher had to be lowered down the cliff by a rope system.
The man has not yet been officially identified and police have appealed for anyone with any information about the crash to contact them.