Stephen Lythgoe named as High Tor cliff plunge motorist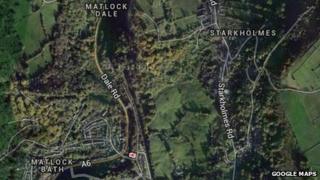 A 65-year-old man who died when his car left the top of a Derbyshire cliff has been named by police.
Stephen Lythgoe, of Church Street, Matlock, was discovered dead in his car lodged in trees at High Tor, near Matlock Bath, on Monday.
He was found after police were alerted by a dog walker who spotted tyre tracks that disappeared over the cliff.
Derbyshire Police said it was a "very unusual incident" but the death was not believed to be suspicious.
It took rescuers about 45 minutes to recover Mr Lythgoe's body from his black Chrysler PT Cruiser. Derby Mountain Rescue said a stretcher had to be lowered down the cliff by a rope system.