Buxton will not get Gilbert and Sullivan festival return in 2015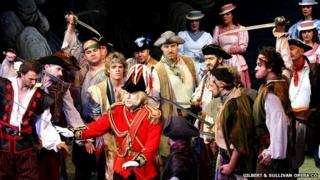 Organisers of the Gilbert and Sullivan Festival have said it will not return to Derbyshire next year despite council efforts to bring it back.
The event, which has been held in Buxton for 20 years, is due to go to Harrogate in August, and now in 2015.
Ian Smith, chairman and artistic director of the festival, said no agreement could be made with High Peak Borough Council.
The authority's leader had said negotiations were "going well".
'Quite disgusting'
The Gilbert and Sullivan Festival was hosted by Buxton Opera House and the Pavilion Arts Centre but moved to Harrogate over a row about funding.
Mr Smith said: "The festival is not going back to Buxton. The deal that High Peak [Borough Council] had put together was very disappointing."
The authority had offered subsides but it did not stretch to a cash grant unlike on previous occasions.
Last week, council leader Caitlin Bisknell described Mr Smith as an "interesting character" who liked to get his own way.
In response to those comments Mr Smith said: "Her [Ms Bisknell] statement on [Radio Derby] last week was frankly quite disgusting."