Markeaton Crematorium butterfly baby memorial unveiled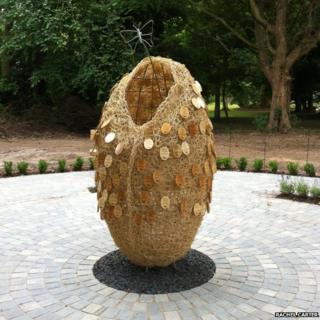 A memorial has been unveiled in Derby dedicated to babies who died before or shortly after birth.
The sculpture, set in woodland at Markeaton Crematorium, depicts a butterfly emerging from a cocoon.
It follows fundraising efforts by the local branch of the Stillbirth and Neonatal Death Charity (Sands), which raised £35,000 for the project.
The work, designed and created by artist Rachel Carter, bears the names of about 200 infants.
'Place to reflect'
Lou Evans, chair of Derby Sands, lost her baby five years ago and came up with the idea for the memorial to help parents in the same situation cope.
She said: "After the stillbirth of my daughter I was astounded to learn just how many local people had also lost a baby, some who did not even have the opportunity to see, hold, or even name their little ones."
Up until 15 to 20 years ago babies were "usually whisked away from the parents and then buried, cremated or disposed of without a funeral, or the parents ever knowing what happened," she said.
She added that the memorial would offer bereaved parents "a place to reflect upon their loss and grieve".
The memorial and garden was officially opened by TV auctioneer Charles Hanson, whose son Tommy died two years ago.
He said: "We had him for two days and it was the hardest thing in the world - but this memorial is a place where parents can remember babies who can't be with us today."
It is accessible to the public during normal opening hours of the crematorium grounds.