Derby street to get giant water slides for a day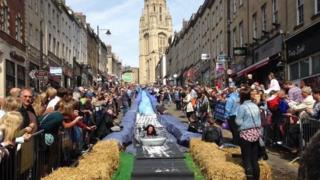 Two giant outdoor water slides will be installed on a street in Derby, inspired by a similar ride in Bristol.
At 100m (328ft), the slides will be slightly longer than the Bristol one, and will be alongside each other so more people can have a go.
Some 360 people were soaked as they went head-first down the 90m (295ft) slide in Bristol in May.
The Derby slides will be installed in Kipling Drive, Mickleover, for one day in September.
David Lewis, from community group Our Mickleover, said: "We saw it in Bristol and thought it looked good, and we've got the facility to have it in Mickleover so why not?
"We've got the hill so let's use it."
The Bristol slide was made with plastic sheets, hay bales, water and washing-up liquid, but the Derby ones are being made by a bouncy castle manufacturer in Loughborough.
Mr Lewis said they will have inflatable sides surrounding a 'slidey' section.
Registration only started in the last couple of days, but more than 1,500 people have already applied to have a go on the slides.
People can apply by emailing the Our Mickleover group.
Those who are not selected will be able to take part in other activities alongside the slides, such as a climbing wall, zip wires and Segways.
Peter Walley, a vicar in Mickleover, said he may apply to have a go on the slide.
"Both the summer fete and the Christmas fair have really brought people together, so this will be another occasion for people to enjoy themselves and meet old friends," he said.