Derbyshire County Council announces 'toughest cuts in history'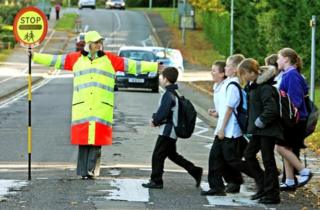 Derbyshire County Council has announced plans to make what it describes as "the toughest cuts in the council's history".
They include axing funding for school crossing patrols, cuts to libraries and less money for maintaining roads.
If the proposals go ahead there will be about 2,000 fewer jobs at the council over the next three years, on top of 1,600 job cuts announced last year.
The authority said it must save money because of cuts in government grants.
The council's cabinet will meet on 15 July to consider the latest £70m of proposed savings, which are part of a £157m reduction.
Council leader Anne Western, of Labour, said in a statement: "We need to be absolutely clear. We do not want to make these unrelenting cuts which will affect services local people rely on.
"The government has left us no choice and we are having to think the unthinkable. Its budget reductions mean we have to cut our spending on local services by more than a third."
The potential budget reductions include:
Cutting the budget for Direct Care - the service provided by social care workers to people in residential homes, day care and their own homes - by 25%
Closing up to 23 children's centres
Ending the concessionary travel and discount scheme for young people aged 11-19
Removing school crossing patrols unless alternative ways of funding individual sites can be found
Gritting fewer roads and less money for maintaining them
Cutting grants to voluntary and community groups
Reducing staffing and opening hours for libraries, with less money for books
Cutting the budget for countryside services by a third
The cuts are set out in the council's provisional five-year plan.
They will form the basis for consultation on the development of the 2015/16 budget, which will be further considered by councillors later in the year.