Derbyshire County Council seeks buyer for Matlock office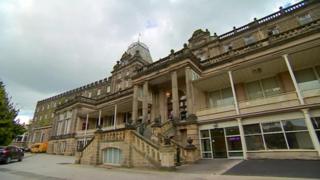 A county council has confirmed it is actively seeking a buyer of its Grade II listed head office as it battles budget cuts.
Derbyshire County Council is housed in a former Victorian spa in Matlock.
It recently announced the latest raft in cuts as part of a long term reduction of £157m which includes the axing of lollipop patrols.
The council warned it had to find a buyer before it could move out to avoid damaging the town's economy.
Anne Western, Labour leader of the council, said: "We would not want to leave this building as a white elephant in the middle of this town.
"This town and the economy of the town and surrounding area relies to a large extent on the council being here.
"We wouldn't want to blight this area by moving without a plan for the sustainable use of the building in the future."
The news the council could move out of the building, which costs £2m a year to maintain, raised concerns in the business community in the town.
Rob Short, who helps organise a weekly market, said many businesses in the town relied on council employees for trade.
"There are a lot of different variables at the minute which is going to make people nervous about their business," he added.
On Monday the council set out its five-year budget plan to be agreed at a cabinet meeting next week.