Stonebroom fire evacuation children praised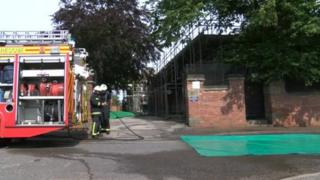 Children and staff from a school that caught fire have been praised for their actions.
Fire broke out in the roof of Stonebroom Primary School, near Alfreton, on Thursday.
One pupil told BBC Radio Derby: "It was a bit scary and we had to crawl along the floor and put our shirts over our noses and mouths."
Another said: "It was just all smoky and I couldn't breathe properly - kind of scrammy and messy."
He added: "I just thought oh no - but it was exciting."
Derbyshire County Council said four classrooms and offices were damaged in the blaze.
No-one was hurt.
Parish and district councillor Barry Barnes said: "Some of the rooms have been very heavily damaged - complete blackness inside.
He praised the actions of staff, pupils and workmen who were at the site.
Mr Barnes said: "They do regular fire drills and this really, really did pay off - they got the children to the safe areas.
"Workmen on the roof started tackling the fire while the children were being escorted away.
"They [the pupils] were a bit grubby when they got out - but all safe."
The blaze was dealt with by reserve fire crews while regular firefighters were taking part in public service union strikes.
Their efforts in preventing the fire spreading were also praised.
The school, which has about 130 pupils, is expected to reopen on Monday.