Housing plan for Derby's Osmaston Park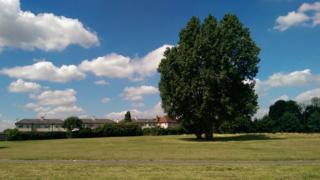 One of Derby's best-known parks could have housing built on part of it, under plans being considered by the council.
The change would affect part of Osmaston Park, in Sinfin, which is a large green space.
Derby City Council said the development would increase public safety in the area.
But Sinfin councillor Robin Turner said he had reservations about the idea and was concerned it would set a precedent for other green space in the city.
He has called for the city council to replace any green space lost to housing with more recreation land.
The social housing would overlook the park, unlike the current houses on Elmtree Avenue and Osmaston Park.
As well as deterring anti-social behaviour by having "increased activity in the area", the housing would contribute to the city's housing targets, the city council said.
There are 3,994 households currently on the city's waiting list for social housing.
When BBC Radio Derby visited Osmaston Park, it found more than a 100 cans and bottles of discarded alcohol in the area being considered for development.
Conservative councillor Robin Wood, a former chair of the city's planning control committee said: "We have to be extremely careful about setting a precedent.
"We will need to have a unique case before building on public open space."
The site is next to allotments which a council report said would also be improved.
A council officer said profits from the development would be used to improve the park.
Derby City Council said the plan was in its early stages.
A council spokesman said it would look at building the homes if there was "demand from the people of Osmaston".