Ashbourne Leisure Centre 'arson': Police make arrest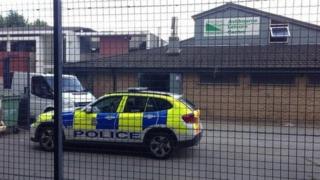 A man has been arrested after a suspected arson attack which could put a leisure centre's pool out of action for weeks.
Firefighters were called to reports of a bin fire at Ashbourne Leisure Centre, which spread to the plant room shortly before midnight on Saturday.
The plant room was badly damaged and the rest of the centre was smokelogged.
Derbyshire Dales District Council said the damage meant the pool could be shut for weeks.
A post on the council's website said the pool's filtration system was damaged but other facilities remained open.
A full assessment of the damage will take place on Monday.