Home HIV tests sold for first time by Derbyshire firm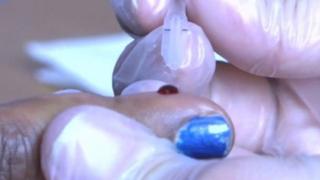 Approved HIV home testing kits are on sale in the UK for the first time.
North Derbyshire firm Home HIV Test said its kits would attract people who were afraid of being diagnosed by a GP or at a clinic.
The law changed in April making it legal for people to test and diagnose themselves at home.
An NHS sexual health worker said people who tested at home might not get the appropriate advice and counselling a clinic or GP surgery would provide.
'Scary scenario'
Dr Hayley Wood, who works in Derby, said just under 100,000 people had HIV in the UK, a fifth of whom could be unaware.
She said increasing the amount of testing was "a good thing" but she said she was concerned about aftercare.
Dr Wood said: "If people come to a clinic setting they can get the appropriate advice and management and they can get that psychological support and they can be tested for other sexually transmitted infections as well."
She said people needed to ensure tests were quality checked with a CE mark, which meant they complied with EU health and safety requirements, and if they received a positive result they should still attend a clinic for confirmation.
Director of Home HIV Test Trevor Rhead said the £19.99 kit, which is CE marked, is a finger-prick test, similar to how a diabetic checks for glucose levels.
They are 99.98% accurate with results returned in 15 minutes, he said.
Co-director Chris Jones said: "We've spoken to a number of people that are scared of diagnosis. It's just the fear of going to an official body - it can be a very scary scenario."
The company said, if asked for advice, it would suggest people visit a GP or a clinic for a free test, rather than buy the home kit.
The firm has approached the NHS for a tender, it said, and planed to supply charities and NGOs.